Jubilee International Studies Club
Jubilee International Club at our school will provide scholars additional opportunities to become involved in service projects, both locally and internationally. This club will more specifically help scholars answer the question: 'What will you do with what you are learning?" Any scholar enrolled at our school who wishes to participate in this extra-curricular activity may join. We will also have service projects and field trips.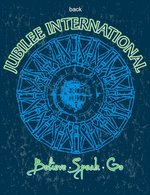 International Studies Mission Statement
We will guide all of our scholars to:
Engage others as part of a global community by effectively communicating in foreign languages

Identify the differences that make them unique and gain respect for the talents and contributions of others

Appreciate the diversity in our community and American culture

Utilize their new skills so they can be applied in the real world

Emerge as dynamic members of our school and embrace the challenges of making a meaningful difference
Antione St. Exupéry wrote in The Little Prince, "It is only with the heart that one can see rightly; what is essential is invisible to the eye." Jubilee International Studies Club members see with their hearts through authentic service learning opportunities in Americus and abroad. The mission of Jubilee is to engage students as part of a global community as they effectively communicate in foreign languages. Students apply their new skills in the real world, making a meaningful difference. Each year, students choose service projects locally and abroad that they want to support.
Jubilee's service projects include beautification of area facilities. Jubilee students sponsored Furlow's Odyssey of the Mind teams for two years at World Competition. After Hurricane Michael, students responded by leading the school in filling a trailer with much needed supplies that were promptly delivered to residents at Mexico Beach, Florida. Students wrote special lyrics to You Are My Sunshine as encouragement. Jubilee volunteers participated at a parent reading night by sharing Goodnight Moon in French and Spanish. We also host the International Festival. Jubilee field trips include Habitat for Humanity's Global Village, Cirque du Soleil's Luzia - A Waking Dream of Mexico, Les Misérables and Aladdin at the Fox Theatre, and Fernbank's Museum of Natural History. This summer, students can travel with me to Costa Rica on a service learning trip.
Jubilee nurtures an ongoing relationship with Academie La Saline in Gonaïves, Haiti. Our students write letters in French to Haitian students, raise funds for French books for their library, and prepare curriculum and projects to share. In February 2017, I traveled at my own expense to Gonaïves on behalf of Jubilee to conduct teacher training for Haitian teachers. Students prepared science project kits about force and motion that included marshmallows and sticks to design catapults. This amazing activity enchanted Haitian students because they had never eaten marshmallows! Another group of Jubilee students designed solar system projects in French. Club members evaluated the impact of their contributions through pictures, letters, and videos from the Haitian students. More importantly, Jubilee members personally connected with Haitians. Finally, my students partnered with local business Tepuy Activewear to raise funds to send formula for malnourished children at the school's Klinic. I introduce students to various projects, and they learn that their willingness to serve encourages others to act.
Elementary club members share their language skills by singing in foreign languages at community events, nursing homes, and places of worship. Elementary students entered FLAG's (Foreign Language Association of Georgia) Spoken Word Video Competition and earned superior ratings for You are My Sunshine in French and De Colores in Spanish. At FLAG's Spoken Word Competition in Albany, middle school students earned superior ratings in French as new language learners while others chose native language levels in Japanese and Spanish.
I believe it is essential to provide a myriad of opportunities for students to develop pride in their school and heritage as their language abilities progress. Jubilee is the perfect platform to accomplish these goals.