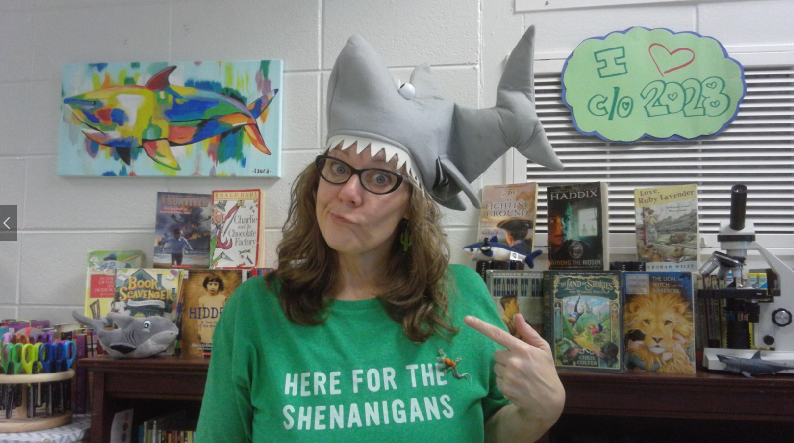 Reading, ELA, Math, Science, and Social Studies
BIOGRAPHY
Ms. Gerlach received her Bachelors Degree in Early Childhood Education from Valdosta State University in 2000. As of 2005, she completed her Masters Degree in Early Childhood Education with a Reading Endorsement. In 2008, Ms. Gerlach became Gifted Certified. She has also been Georgia Work Ready Certified through South Georgia Technical College. Her latest certificate upgrade is the Math Endorsement obtained from RESA.
With a start in 3rd grade at Sumter County Elementary School in January of 2001, Ms. Gerlach's dream of teaching took off. She remained with 3rd grade for 11 years before moving to 4th grade in 2011. In 2012 she went in a new direction and started leading students in 3rd. 4th, and 5th grades through investigative science in the SCES Science Labs! Her current classroom resides in Room 222 on the Yellow Hall of Furlow Charter School with 4th and 5th graders!
Ms. Gerlach was voted as runner up for Teacher of the Year several times at SCES before earning the title in 2009. Then, she served as Sumter County's District Teacher of the Year in 2010.
She was also recognized by the Georgia State Department as a Master Teacher that same year.
Ms. Gerlach was a Top Ten 2011 Georgia Teacher of the Year finalist. She served on the State Superintendent's Teacher Advisory Council and has served on the leadership team of the Georgia Teachers of the Year Association. In 2012 she was chosen to serve on the Governor's Teacher Advisory Council. Ms. Gerlach was Furlow's first Teacher of the Year in 2016 and moved into the Top Ten of Georgia's State Teacher of the Year again in 2017. She has been inducted into Valdosta State University's Educator Hall of Fame, too. In 2020, Ms. Gerlach was selected as a Georgia Southwestern State University Teacher of the Week.
With a knack for cross-curricular instruction, Furlow's Project-Based Learning approach is a perfect fit for Ms. Gerlach's teaching style. She has a passion for hands-on learning, critical thinking, rigorous discussions that make you think, and honest reflection. Much of her teaching was shaped by her 9 years as a co-director of the Southwest Georgia branch of the National Writing Project where she worked with teachers of all grade levels and subjects as they journeyed through an adventure with writing and the teaching of writing.
Sewing, painting, and reading are her most time-consuming leisure activities. You will often see her pulling these hobbies into her teaching and sharing her love of learning with her scholars through these avenues. The most surprising part of her educational journey has been the travel opportunities tied to professional development. Ms. Gerlach has been to California, New York, Pennsylvania, Texas, Florida, and Tennessee to participate and present in various conferences!
Click the link below to access a PDF of Ms. Gerlach's expectations, schedule, instructional pacing guide, and other such pertinent information.
Monday/Wednesday
7:30 - 8:00 (30 min) Morning Work
8:00 - 8:05 (5 min) Announcements
8:05 - 8:50 (45 min) Small Groups: Gerlach, Williams
8:50 - 9:15 (25 min) Social Studies
9:20 - 10:05 (45 min) Bridges - Music, PE, Art, PE
10:05 - 10:25 (20 min) Recess
10:30 - 10:40 (10 min) Number Talks
10:40 - 11:30 (50 min) Math
11:35 -12:10 (35 min) Lunch
12:10 - 1:00 (50 min) Reading Whole Group
1:00 - 1:25 (25 min) Science
1:25: - 2:15 (50 min) Small Groups: G., D., Campbell
2:15 - 3:05 (50 min) Small Groups: Gerlach, Davis
3:05 - 3:10 (5 min) Clean up and pack up
Tuesday/Thursday
7:30 - 8:00 (30 min) Morning Work
8:00 - 8:05 (5 min) Announcements
8:05 - 8:50 (45 min) Small Groups: Gerlach, Williams, Edmonds
8:50 - 9:15 (25 min) Social Studies
9:20 - 10:05 (45 min) Bridges - Music, PE, Art, PE
10:05 - 10:25 (20 min) Recess
10:25 - 10:55 (30 min) World Languages
10:55 - 11:30 (35 min) Math
11:35 -12:10 (35 min) Lunch
12:10 - 1:00 (50 min) Reading Whole Group
1:00 - 1:25 (25 min) Science
1:25: - 2:15 (50 min) Small Groups: G., D., Campbell
2:15 - 3:05 (50 min) Small Groups: Gerlach, Davis
3:05 - 3:10 (5 min) Clean up and pack up
Friday
7:30 - 8:00 (30 min) Morning Work
8:00 - 8:05 (5 min) Announcements
8:05 - 8:50 (45 min) Weekly Assessments
8:50 - 9:15 (25 min) Social Studies
9:20 - 10:05 (45 min) Bridges - Music, PE, Art, PE
10:05 - 10:25 (20 min) Recess
10:30 - 10:40 (10 min) Number Talks
10:40 - 11:30 (50 min) Math
11:35 -12:10 (35 min) Lunch
12:10 - 1:00 (50 min) Reading Whole Group
1:00 - 1:25 (25 min) Science
1:25: - 2:15 (50 min) Small Groups: G., D., Campbell
2:15 - 3:05 (50 min) Small Groups: Gerlach, Davis
3:05 - 3:10 (5 min) Clean up and pack up
Civil War & Abolition/Suffrage
Great Depression & New Deal
Order and Operations & Whole Numbers
Adding and Subtracting with Decimals
Multiplying and Dividing Decimals
Adding, Subtracting, Multiplying, and Dividing Fractions
Geometry and Coordinate Plan
3rd Grade Physical Science